24 Hour Emergency Services
24 Hour Emergency Electrical Services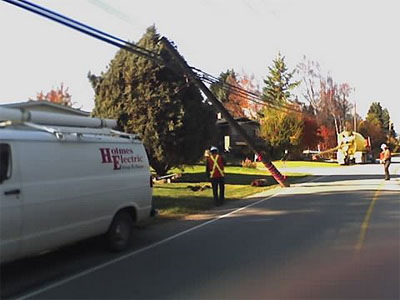 24 HOUR DISPATCH: 250-575-1110
Holmes Electric believes that emergency service means being available to our customers 24 hours a day, 7 days a week. Holmes Electric is dedicated to our clients' needs at all times.
By phoning our 24 hour services, you will get an immediate response from a real person and not an answering machine. For EMERGENCIES AT ANY HOUR, your particular need is referred to our experienced personnel which will be back to you within minutes of your call to gather all the pertinent information to insure that the correct resources are immediately dispatched to your location. The initial response team is spearheaded by one of our most experienced electricians and/or technicians in a fully stocked service truck. If it is determined that additional support is needed, additional manpower is available at all times. Holmes Electric will work around the clock to get our customers operating again.
Holmes Electric understands the importance of keeping our clients' systems & production up and running. System failure can mean large revenue losses and loss of customer confidence. We understand the urgency of the situation and at the same time the critical need for the safety of everyone involved in the operation.
For additional information on our Emergency Electrical Services – please contact our Operations Manager at 250-575-1110.
---
View the other electrical services we offer.